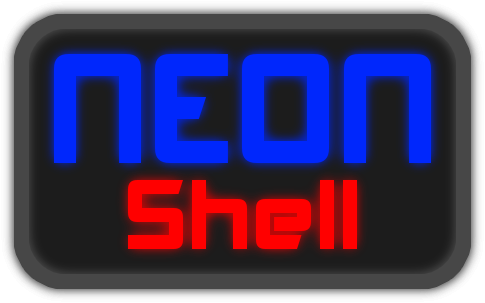 NEON Shell
For a few weeks now I've been working on a full release version of my Wizard Jam 3 game, Rogue Robot Rogues. I'm taking the original game as a prototype for this new version. This will not only be more complex with more enemies and systems but hopefully incorporate multiple levels of play, in order to create a more fulfilling gameplay experience.
To go along with this full release I've changed the name and art style to better suit the new direction of the project. In this first dev log I'm going to be introducing the new project and outline the main problems with the current build of Rogue Robot Rogues.
NEON Shell is a cyberpunk bullet hell defender in which the player has to construct and control ICE security systems in order to protect the valuable data of their employer from cyber attacks. Most media in the genre is concerned with fighting against the corporations that control cyberpunk society. With NEON Shell however, I want to explore the other side of the coin; placing the player in charge of a corp's security systems, instead of against them.
In Rogue Robot Rogues I focused on prototyping the main mode in the game, mainframe defence. In this mode there are data orbs, which act as health points positioned around a turret, or ICE construct. The player needs to take control of the turret in order to protect their data from incoming enemies who are completely invisible. This means that the player either has to guess their location or disable them and their cloaking with an EMP before shooting them.
If you haven't yet played Rogue Robot Rogues you can do so here: https://mythalore.itch.io/rogue-robot-rogues and if you're interested the dev log for Rogue Robot Rogues can be found here which details my original development process.
I explored a number of variations on the basic gameplay loop. Adding in enemies with shields (Shield programs), who are immune to the player's EMP until they are shot. This was intended to reverse the gameplay loop of the basic enemy type (Rogue programs) which the player has to EMP to remove their stealth before shooting them, in order to introduce some variety. This worked well as a start but the game gets quite samey with extended play; clearly more enemy variety is needed.
The other main variation I introduced was time limited power ups which were intended to provide a change of pace and to be used as a balancing mechanic to increase average playtime. This worked in essence but the power ups introduced were very limited in their scope, effecting only reload speed (purple), EMP recharge time (yellow) and health (green). In addition, the time limited factor of the power up mechanic only serves to emphasise the lack of power that the player has while not boosted by a power up. To remedy this I'm intending to include a building and upgrade system into NEON Shell which should hopefully even out the power curve of the game into a more steady progression.
Lastly, I've also redesigned the art of the game into a more striking, neon inspired style. This change simplifies the visuals of the game and should help to better separate the game elements by only needing to differentiate the basic shape and colour of each element. This new style also, I feel, ties in nicely with the new name and theming of the game, taking inspiration from the neon cityscapes of classic cyberpunk settings like the depiction of Los Angeles in Bladerunner.
I've been on a month or so break from the game in order to better define the direction but should be back on track now. I'm planning on hopefully posting to this thread every week or so when I've got something to show throughout development.
Thanks for reading!
- Sam (@Mythalore)